Projects
Click on a project below to find out more about some of the refurbishment and new build projects we've been contracted to plaster.

We recently completed a full dry lining and ceiling package on behalf of the Fitzwilliam Hospital at Peterborough.
This included fire boarding to the truss roof and full installation of insulation. Installation of metal stud walls to meet the sound reduction levels required by the client.
We also installed 24mm exposed T Lay-in grid ceilings throughout, with Exception of the MRI scanner room to which we installed a non-ferrous 600×600 grid system.
This was all taped and jointed left ready for direct decoration.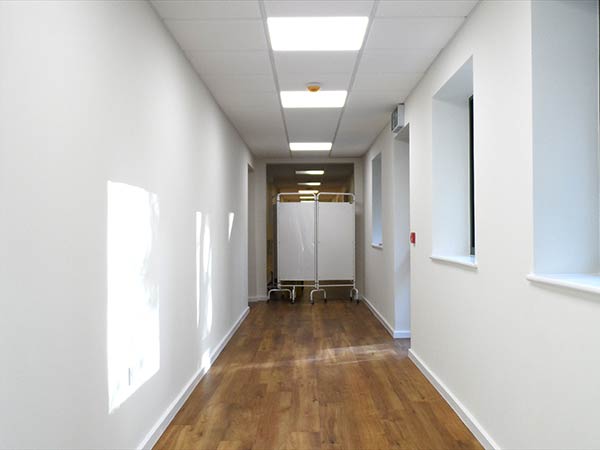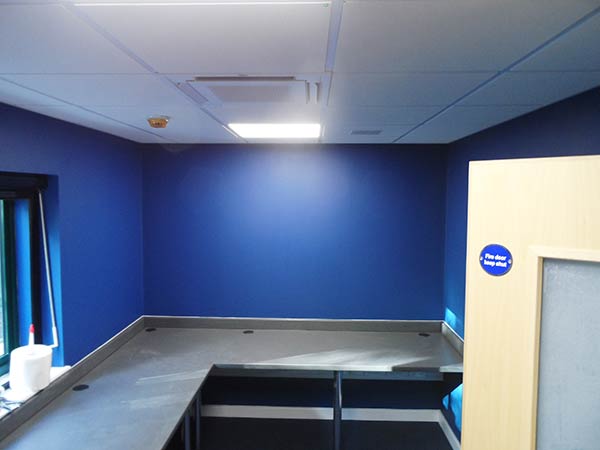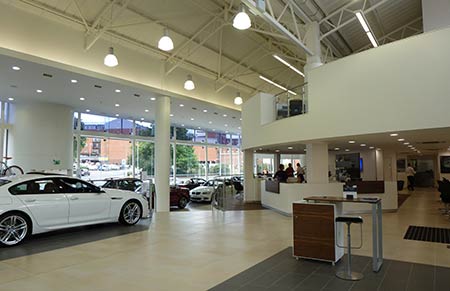 We were called upon part way through this project as our client had been let down by another firm.
We helped turn the project back around so that it was completed in time as per the client's programme.
The services we provided were:
Tape & Jointing
Plaster Skim Coat
Lay-in Ceiling Grid System
We recently completed a full Dry lining and Plastering project on behalf of Christy – Luxury Towels and Bed Linen at the London Designer Outlet, Wembley
Services included installing a MF Ceiling ensuring that the cut outs for the Air Conditioning Plenum Boxes and light fittings were free from any metal work to achieve a monolithic ceiling. The 'back of house' walls had to meet with the criteria of the fire officer but also had to include a recessed skirting detail trim.
This was a very exciting project which had to have a quick turn around and need to fit to certain criteria with the prestigious development at Wembley.

We have recently completed a full Dry lining, Plastering and Ceiling Project at The Queens Medical Centre – Medical School Foyer Refurbishment – Nottingham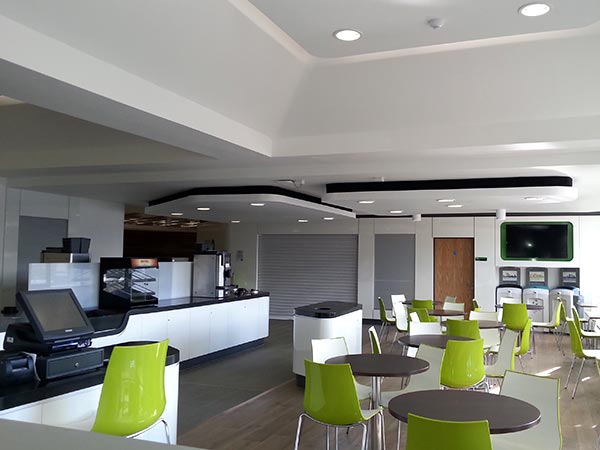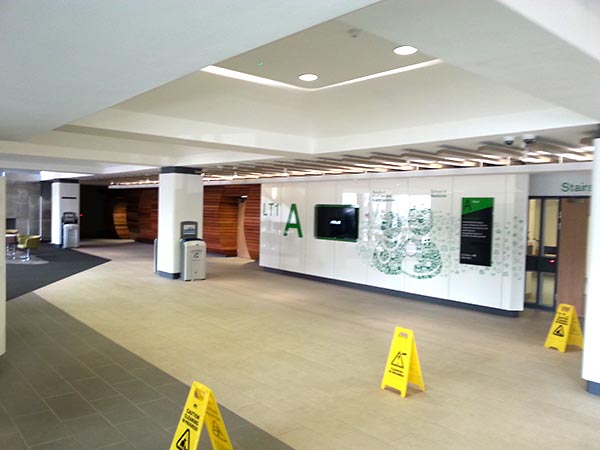 This job was always going to be challenging.  From the start we were working in a live environment, under strict guidance from the University of Nottingham and the Queens Medical Centre. The Project demanded work to be carried out 7 days a week and on occasions 24 hours a day.
The Services we provided were:
Metal Stud partitions to form new open study library areas to conform with the noise reduction levels required by the client
Floating MF Rafts to the study areas with radial corners.
Fin recessed TV walls with full multimedia capabilities
Curved walls to the reception area, IT area and Café
Vaulted Coffer ceilings in the main foyer with hanging acoustic absorbent pads
To install a floating MF raft ceiling with radius's to mirror a spiral staircase
We also undertook a bespoke ceiling installation designed by SAS International which included a floating plasterboard raft which runs the length of the foyer that has an irregular curve. SAS International provided us with metal Fins that had to be hung independently.
We provided the full design of the installation of the plasterboard raft and fins, as the design put forward to us would not have been able to have been completed within the programme deadline.
We were delighted to have undertaken this prestigious project on our own doorstep.  Despite the complex design issues, we were able to complete it beautifully.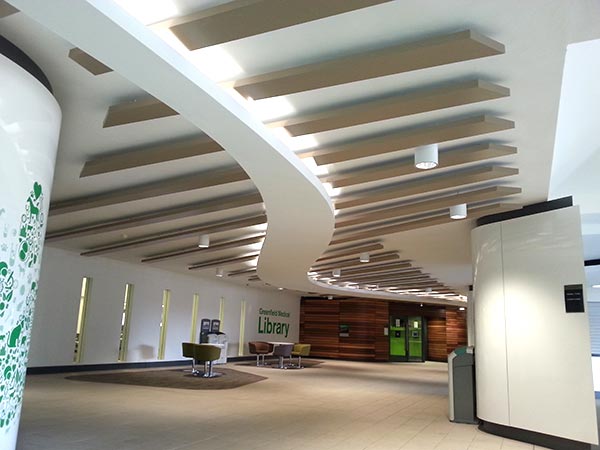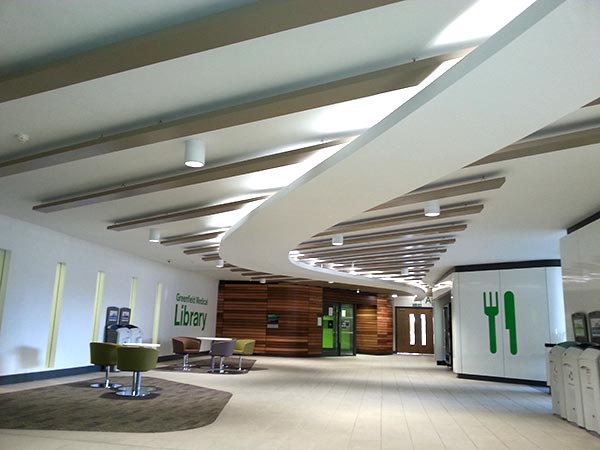 We recently completed an apartment block to accommodate 10 self-contained units with on-site staff areas.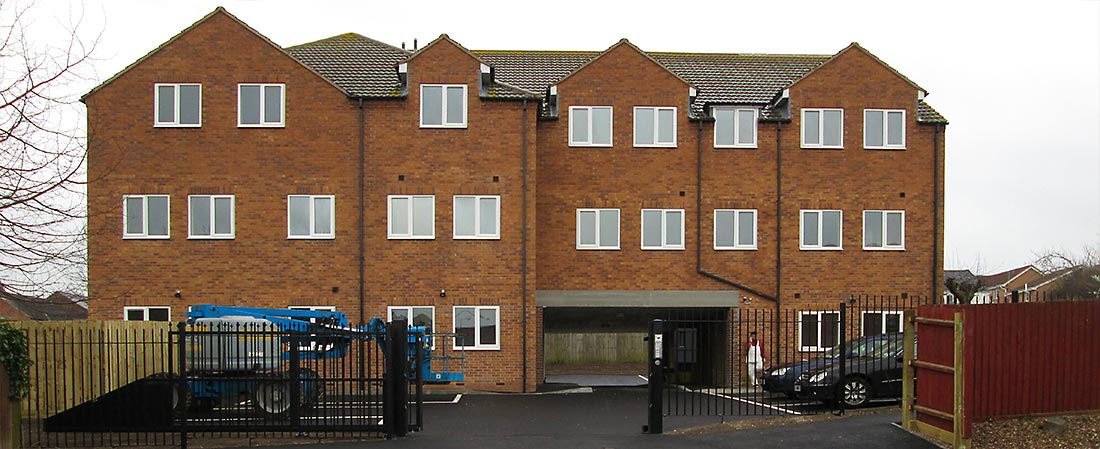 The client is very excited about the development as it is their first site in Derbyshire and they are delighted to confirm that we have completed on time and within budget. The apartments will be for people with learning disabilities and/or mental-health support requirements.
We have provided a full dry lining and plastering package with extra care taken on sound reduction and durability of the walls and ceilings.
A & G Plastering Contractors Ltd have recently completed a refurbishment of the student halls of residence at Coventry University.
We provided services to 106 bedrooms, staircases, communal areas, study areas and reception areas. This was run on a very strict programme as it had to be completed before the students returned after their summer break.
Once again we came through and provided a first class service, enabling the project as a whole to be handed over on time and within budget.
If you require any plastering, dry-lining, ceilings, glazed partitions please do contact us on 0115 9174112
A&G Plastering Contractors Ltd provided a full fit out of the major pub chain in a grade 1 listed building.
This job had many constraints and restrictions due to the age of the building.  Working very closely with the architect enabled us to preserve some of the detail oak beams, creating vaulted ceilings, whilst still ensuring the insulation was installed to the correct thickness, to ensure the building wasn't losing heat.
We also created bulkhead details around RSJs and curved ceilings to the architect's precise instruction. Other services carried out included grid ceiling installation with cleanable tiles in the kitchen and server areas.
The project was handed over in time to ensure trading forecasts were not affected.
A & G Plastering Contractors have recently completed a 1750 sq.ft 2 storey office, storage and distribution facility.
Works included installing a jumbo stud partition wall separating the office space and the warehouse. The wall had to conform to building regulations as the warehouse was unheated and needed to achieve a U Value of 0.3W/M2 and also have a 1 hour fire rating.
We were also asked to design and build a shutter box detail on the ground floor perimeter walls to give access to the window roller shutters. We also installed all internal partitions, provided a full plastering service and installed grid ceilings throughout.
The job was completed on time and on budget to enable the distribution company to open on schedule as they had contracts that needed to be maintained.
A & G Plastering Contractors have recently completed an extensive conversion at the Earlsdon Park Development in Coventry.

The project involved splitting the ground floor space into two halves. One half for over-spill offices for a teaching union and the other half for future expansion and development.
Works included Firebreak Walls, Wall Liners, Grid Ceilings and Plastering Services.
If you require any plastering, dry-lining, ceilings, glazed partitions please contact us on 0115 9174112
A & G Plastering Contractors are currently working on a new build project in Standground, Peterborough.
The project consists of 22, spacious 2 Bedroom apartments with balconies, Prices Starting at £130,000.
The first phase of the project and works included: Sound Coating all adjoining walls and installing MF ceilings with to comply with robust detail.
Our second phase will be Installing Metal Stud Partition Walls, to the internal walls, and dot and dab to all block work walls
Our third and final phase is a Full Plastering Service to all apartments and communal areas. The communal areas included an acoustic absorber on the ceiling to ensure that the noise from the hard surfaces is not transmitted into the apartments.
The project ran on time and within budget, to ensure the sale of the apartments were ready for summer.
If you require any plastering, dry-lining, ceilings, glazed partitions please do contact us on 0115 9174112.
A&G Plastering Contractors Ltd are proud to announce that we have secured a job at Silverstone Race Track at Porsche Driving Experience.

The programme is going to be very intense and requires round the clock labour to ensure that the handover in time for F1 Grand Prix on 4th July 2014.
The job entailed the installation of new partitions to form new offices, new show room, restaurant areas and back-of-house areas.
We will also be installing MF ceilings, Burgess Metal Pan ceilings and lay-in grid ceilings. The attention to detail on this prestigious project is second to none with MF ceilings seamlessly incorporating feature Burgess Metal Pan ceilings.
Get In Touch
To enquire about our plastering services:


call: 0115 917 4122